Active Retirement Hobbies
Seniors today are pursuing active retirement hobbies. It's advisable to get involved long before you retire, to pre test your assumptions about the benefits of a specific retirement hobby.  Hill walking is among my most significant active retirement hobbies.  The following story describes my long and winding road to retirement joy in the mountains.  
My Active Retirement Hobbies-Hillwalking

Discovering a Retirement Hobby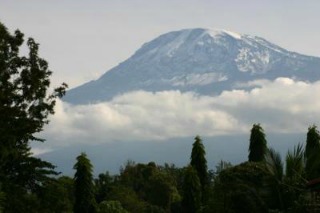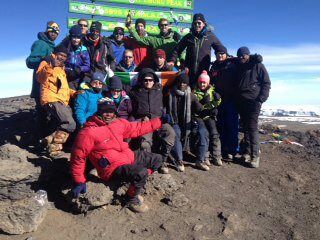 The first mountain I climbed was Mangerton in Co Kerry.  It was not an auspicious start. My legs and back ached, I was sweating and short of breath, and I couldn't keep up with the other walkers.  This is embarrassing, I thought to myself, I'm too old for this, I don't belong here.
That was May 1998, and I was 51.
I could scarcely have imagined then that it was the start of a journey that would take me to Kilimanjaro, Mount Everest Base Camp, Mount Elbrus, Sierra Nevada Spain, Chamonix/Mont Blanc area, the French Camino, Iceland, and the highest mountains in Britain and Ireland. Persevering with the challenge of hill walking was life affirming, and introduced me to a world of unimagined beauty and adventure. 
What brought about the change in my mindset, which enabled me to do in my sixties, what I struggled to do in my early fifties? 
It wasn't just a change of mindset, of course. The different life stages bring up separate issues and concerns.  Prior to my retirement, at age 60, family and career were among my highest values. Retirement allowed me the opportunity to plan and live the dreams I had waited for, dreams of travel and adventure, doing novel things, putting more variety into my life, and continuing my growth and development. 
I realised that as well as a change in mindset, there were practical things to attend to if I were to stay 'forever young', and live like I was fifty when I was seventy, and beyond.  And I wasn't going to be able to do it without the support of family, friends, and mentors.
I had a busy 'desk' job from age 18-60, as a Finance Director, so I needed increased stamina and fitness to become a competent hill walker, and I needed guidance and training to develop hill walking skills and experience.  And because health and fitness were high values, I was willing to do something about that.  

Lee Valley Walking Group
I joined the Lee Valley Walking Group in 2000, age 53, and with the support of Catherine Ketch, built my confidence and honed my skills as a hill walker.
I've had great days enjoying the wildness and beauty of West Cork and Kerry, including most of the peaks of the MacGillycuddy Reeks, and the beautiful valleys from the Gap of Dunloe to Glencar.
I climbed the highest mountains in Ireland and Britain. Ireland's Corrán Tuathail and Slieve Donard, Scotland's Ben Nevis, Snowdon in Wales, and Scafell Pike in England.
On the Continent I went to the Mercantour and Ecrin national parks in the Chamonix/Mont Blanc area, (where I got the opportunity to Paraglide over glaciers), Spain's Alpujarras and Sierra Nevadas, including Mulhacen, the highest mountain on the Iberian Peninsula.

Active Retirement-never too late
Mount Elbrus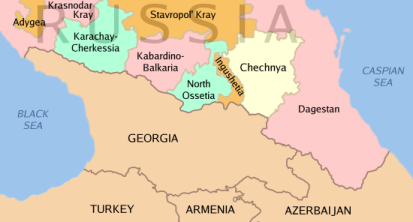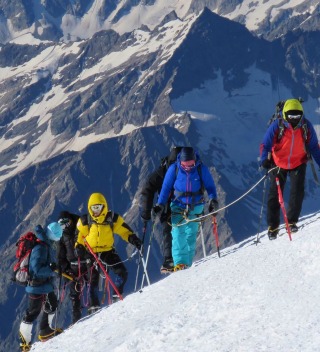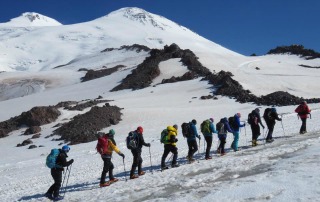 Pat Falvey has been an inspirational mentor and a wonderful supporter and motivator.  I was privileged to join him on three amazing expeditions...Kilimanjaro, Everest Base Camp, and Mt Elbrus, beginning with Kilimanjaro in my sixty fifth year.
Of these three memorable adventures, Mt Elbrus merits special mention.
Someone suggested that I… 'Book an adventure beyond your ability, and train hard for it'.
I like a challenge. I've often put myself beyond my comfort zone, e.g. pitting myself against people who were younger and more skilful than me. And so, in July 2015, I undertook my biggest mountain adventure, when I joined a team, lead by Pat Falvey, to Europe's highest mountain. 
It was by far the toughest of my three expeditions. Trekking at altitude on snow and ice is challenging, and requires training in alpine skills. 
The route to the summit was a real high altitude adventure. I was thrilled to reach a height of 5100 meters, 300 meters higher than Mont Blanc!  Whilst there was a degree of disappointment in not reaching the summit (5642m), in a way it only served to highlight what I had already accomplished in going way beyond anything I had previously achieved on the mountains. 

Retirement Travel
Travel has been another highlight of my retirement years to date, and the seeds of that wanderlust were sown at a very early age.
I remember as a little boy hearing my father crooning Bing Crosby's 'Far Away Places' and wondering which Far Away Places I would get to see in my lifetime.
'Those faraway places with strange sounding names...Are calling, calling me…'
Reading The Coral Island as a ten year old boy, I was spellbound by the image of a perfect place, where 'a sandy beach of dazzling whiteness lined this bright green shore, and upon it fell a gentle ripple of the sea.' I saw such a picture in the Whitsundays of Queensland, which I visited in 2007
I was enthralled by the images of the Kenyan landscape in the 1966 film Born Free, with abundant wildlife roaming free in savannah grasslands, with flat topped acacias thorn trees.  I would look down on such a scene from the Roof of Africa in 2012.
My father had a saying, to encourage me to study for my Leaving Cert, 'get your exams, and you can travel the world'; an alluring motivation for a teenager in 1964. And a heady dream for a young man coming of age in an Ireland of that era, for whom a trip to Youghal or Crosshaven was a summer highlight.
I've been to six of the seven Continents, visiting more than 30 countries, and yes-Antarctica is on the Bucket List.

Forever Young-active retirement hobbies
The travel and adventures described in this article occurred mainly after age 60.
For me the concept of 'forever young' is not about turning back the clock.  It's about holding 'bent old age' at bay, until 80 or beyond.
As I begin my 70th decade there are inevitably occasional concerns about health issues and 'running out of time', and I don't have time to procrastinate!
My father died at age 58, when I was 20.  I want to make sure that every year I lived beyond his age is well lived, active and meaningful.

---
Tell me about your Active Retirement Hobbies

What's Your Story?
Your story is unique, since no one has seen the world through your eyes.