Retirement Sentiments
Retirement Stories from Real People
The retirement sentiments within my stories invite you into another world and reveal important messages about retirement planning.
Why Retirement Sentiments and Stories?
Sometimes we connect with stories, books and films as though they have a personal message for us. As if, "that's the story of my life". 

In our careers, analysis and factual information drives business thinking. Retirement stories, involve imagination and possibilities. Stories take us to the inner world of thoughts and feelings. 
Examples of my retirement stories and memoirs
The following stories, from my creative writing series and memoirs, illustrate some retirement sentiments, relating to my own experience and of family, friends and clients in my retirement coaching practice. (For a fuller description of the significance of stories in retirement planning please read Why Retirement Stories?) 


Happiest Days: Whoever said schooldays were the happiest days of life must have had a dull time later on! Here are some of my fourth class memories from the North Monastery primary school in 1957 ...

Holiday Times 1955: My family holiday home, during the last two weeks of August 1955, was a converted railway carriage, near the East Cork town of Youghal ...

Senior Adventure Travel: The Mountain Kings of Africa: If you're looking for retirement ideas, you might try an adventure holiday...

Retirement for Couples: Darby and Joans Story - Retirement can be a delightful time for couples, and can strengthen the bond between partners. Nevertheless, it still has to be worked at, and partners need to be prepared to make adjustments where necessary.  This story takes a humorous look at the events that brought you to this point...
 Retirement Wishes Versus Reality: About Schmidt - "About Schmidt", staring Jack Nicholson, is one of my favorite movies. The film has wonderful characters, evokes strong emotions and the theme or plot is relevant to those of us recently retired - or just about to ...

The Bucket List: It's About Time! - The Retirement Bucket List is of your Retirement Wishes, before you 'kick the bucket.' Do YOU have a Bucket List?

Retirement? Never! - I love the poignant and humorous retirement sentiments expressed in this prize-winning Toastmasters' Speech ...

My retirement sentiments are best expressed by describing my emotional farewell to work, and my last day at the office

Follow The Yellow Brick Road - In your transition to retirement, you may wonder if you have the resources you need for the new situation. The Wizard of OZ reminds you that sometimes you need look no further than your own backyard.

The Road Not Taken - When you come to a fork in the road, how do you decide which way to go? A story to aid your retirement decisions.

Let's Go!: "Do something you would love to do, really want to do." This was one of my prize-winning Toastmasters speeches. I was 50 at the time of the adventure it describes...

Christmas Eve, 1954.: Sometimes, we retirees get nostalgic as we look back with happiness and gratitude at "the way we were". Many of the older "Baby Boomers" will have their own version of this story...

Transitions: We experience many changes and cross many thresholds in life. We leave school, leave home, change jobs, get married, parents die, we retire ... in all those cases we are faced with the need to give up one way of life and begin another ...

Circle of life: One of the challenges you may face in mid-life is supporting aging parent(s). This story also deals with assisted living and senior living communities ...

Vocation: In this story, a teacher reflects on the disparity between the dreams he had for his career, and what he feels he has achieved. He is heartened by thoughts of small pleasures and triumphs ...

Life is beautiful: A philosophical, and sometimes humorous, reflection on the mid-life transition. This is a phase when thoughts of major change or early retirement might first surface ...

Trudy: This is a story about one of my best friends, and learning to let go with dignity, humanity and gratitude. Retirement is a time to let go of former colleagues and roles and begin again ...

Going back: "I knew then why I had come back...to discover how I had changed ..."

Peter the Great.: Prepare to be surprised and entertained as you enter the curious world of stage hypnotism - but this is also a story about the roles we play and the choices we make ...

If you've enjoyed these stories you will love Retirement Talk, hosted by Del Lowery. There you can listen to, or read, great stories about the demands and opportunities which the freedom of retirement offers. The stories on Del's site will assist you in considering the retirement lifestyle that's right for you.
I hope you enjoyed these retirement sentiments. Please share your Retirement Stories and Anecdotes!
Everyone loves a good story expressing retirement sentiments.

Want to hear what other people are doing for an Active Retirement? 

Subscribe to my monthly email newsletter, "Retirement Stories". Full of new stories and tips on planning for and enjoying an active retirement.
Subscribe Now.. and receive this Great Free Gift!
Sample Retirement Letters
- Great Examples for You to Change and Use ... You will receive Download Instructions on Your Confirmation Page.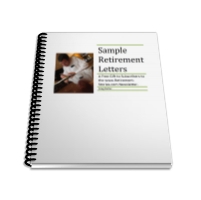 ---