Readers Retirement Stories
Your Memoirs and Anecdotes
Readers retirement stories capture special moments with a short story or memoir.
"One of my stories is being broadcast on the radio next Sunday", I proudly announced."I hope it's not one of your tales about the old days", my son said mischievously. One day, when he has children of his own, he'll be glad I wrote those stories. I wish my parents and grandparents had left me a collection of their tales from the "old days". 

The Greek philosopher, Socrates, believed that "The unexamined life is not worth living." He is also associated with the maxim "Know Thyself." It is said that these words were inscribed in the forecourt of the temple of Apollo at Delphi. Socrates said, with reference to the inscription, "to be curious about that which is not my concern, while I am still in ignorance of my own self, would be ridiculous..." 

How can we know ourselves and examine our lives? One way is through writing your own personal story - or Memoir.
"Of all the subjects available to you as a writer, the one you know best is yourself; your past and your present, your thoughts and your emotions. Yet it's probably the subject you try hardest to avoid." (On Writing Well by William Zinsser)
When I decided to take on the challenge of writing a memoir, I thought at first that this was a pretentious goal, because I believed that only famous people wrote their memoirs. That was before I attended a workshop on memoir writing, where it was brought to my attention that today people become famous because they write their memoirs, Frank McCourt's Angela's Ashes, for example, or Jung Chang's Wild Swans. And I was encouraged by the comment "Your stories are unique Greg, because nobody has seen the world through your eyes." 
We are all custodians of our personal history, and I do want to leave a record of some of the experiences, thoughts, and feelings that shaped my life. Now I don't expect to become "famous" through my stories, so let me tell you why I like to write short stories in the memoir genre. 

When I read my stories the word that most often comes to mind is gratitude, because it's the good times I mainly recall, especially those carefree childhood days. To my parents, teachers, mentors, friends, and family, my stories are a way to say "thanks for the memories." 

I didn't deliberately set out on a journey of discovery, yet through reflection and talking to my siblings and other participants in my life, I gained insights about my parents and teachers that were not previously shared or understood. 
Examples of my stories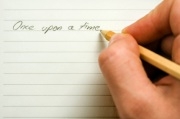 In writing Vocation I became aware of the inner workings of the mind of a member of the Christian Brothers, and of the system that informed their teaching methods. It also reminded me of how it felt to be slapped and embarrassed in front of classmates. 

In Circle I describe how I attempted to collect some of my Mom's stories towards the end of her life. 

The Happiest Days is about my early schooldays, in which learning was by rote, accompanied by strict discipline, yet we also had some fun. 

Holiday Times reminded me of the love and sacrifices which my parents displayed in giving us wonderful childhood memories. 

Christmas 1954 is about "the best Christmas ever." 

Now that my own children have left home, I realize how sad my widowed mother must have felt when I went to live in Zambia in 1969. When I wrote Going Back I remembered her tears as I packed my bags. I would encourage you to write your story, because If you agree that the "unexamined life is not worth living" you may discover that the examined life is intriguing. 
What is a memoir?
A memoir is not a life story or autobiography. It's like shining a torch or flash lamp in a darkened room, illuminating and focusing on a narrow portion of all that's available. The spotlight is on some intense segment from the past. It could be about a significant event, location, travel, relationship, or age. 

My tales are mainly about the Baby Boomer era, from the ending of the war to the coming of the Beatles, 1946-1964. I was born in 1947 - the winter/spring of the "Big Snow", and finished high school in 1964. 

There is another advantage in getting to "know yourself" which is relevant to retirement planning. People who examine their lives, who think about where they've been, how they got here, and where they're going, are more likely to be happy and fulfilled. And they are in a better position to set goals for their retirement years. 
---
Readers Retirement Stories
I enjoy sharing my stories and memories, and I would love to hear your retirement stories and anecdotes.
Here is a link to Guest Retirement Articles on Retirement Planning and Living. These are Personal stories that offer you diverse perspectives on life after work.
---
What is Your Story?
Write About it it Here
Your Story is unique, since no one has seen the world through your eyes.

Tell us about your retirement, or the early years
Your Favorite Stories and Anecdotes on Retirement Stories ...
Click on the links below to see some great stories and anecdotes. They were all written by other visitors to this page...