Retirement Party Ideas
Planning Your Retirement Party
The goal of retirement party ideas is to honor the retiree, and be a fun occasion for other participants. The event celebrates the career of the retiree and wishes him/her well for the next phase. 
If you follow the retirement party ideas on this page, it can be a fun and memorable occasion to be cherished and enjoyed by all.
Party Planning Topics
In planning the retirement party the following topics need to be considered:
Location: Restaurant, pub, office, or private home?


Food: Buffet, banquet or finger food?


When: Week-end, week day, lunch?


Theme/Tone: Formal or informal, activities and games?


Invitees: Including family.


Tributes: Have a look at Retirement Toast AND Retirement Party Jokes.


Gifts: Have a look at Retirement Gifts.


Etiquette: Timely invitations, notification of dress code, are individual gifts accepted, notice to speakers, RSVP expected?


Guest book/card: For good wishes.


Budget: How much do you (or others) want to spend?
My Retirement Party Ideas
Here's an example of My Own Retirement Party(s):

Just remember - the party should be a fun occasion for the participants! It may be difficult to accommodate all interests in a single party. The answer? 

In my own case I had several parties!
I had a formal lunch with my fellow company directors and our spouses.


I had a Friday night dinner, in the private room, of a top class restaurant, with my management colleagues.
The tone was informal, relaxed, and entertaining, group gifts were presented and warm tributes spoken.


The MADMEN (my advertising friends) co-ordinated a wonderful dinner at one of my favourite Dublin restaurants. Those in attendance were from the world of advertising, PR, promotions and research as well as my work colleagues involved in marketing. More gifts and tributes!


On my final day at the office, which happened to be my 60th birthday, I had lunch with my management colleagues at an Indian restaurant.


Finally, after work on my last day, everybody from the company was invited to a party at Barry's Pub. Finger food was served, and beverages of choice. This was a fun occasion and the party went on long after the scheduled closing time!
As you can see I got a wonderful send off from a successful career and I hope my retirement speech did justice to my sense of gratitude. When you are considering your own retirement party ideas - and the sentiments you want to express, do consider what is really important. 
My sentiments too!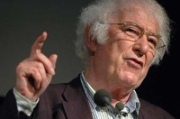 Important sentiments are captured for me, in the words of poet Seamus Heaney-Ireland's Nobel Prize winning poet.
While not strictly a retirement speech, I find the retirement sentiments exquisite. 

The following is an extract from Seamus Heaney's speech on the occasion of his 70th birthday celebration.
"...Much therefore comes full circle this evening. Friends whose work and whose company have helped me across the stepping stones of life. Friends and family are here, all of you are here. All of this is beyond expectation, but I no longer have mixed feelings, this is a totally luminous occasion. And if the wheel has come full circle, that only means that the wheel is about to turn once more. This birthday, in other words, isn't just about keeping going - it is about getting started again. Tomorrow morning my inner Antaeus have to rise as usual to meet my inner Hercules! So I'm utterly grateful for the tonic of the tributes and the proceedings. They are not retirement presents, but ratifications and refreshments. Thanks to them, thanks to you, I will continue to live obligated and elevated, more happily than ever, ever after."
---
Back to Homepage