Singing Seniors
A Great Retirement Hobby
Singing seniors enjoy a fun retirement hobby irrespective of ability or experience.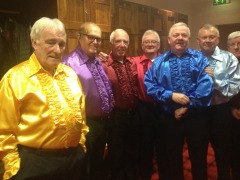 My experience of singing seniors
Do you think it's too late to make your debut as a singer?  Let me share my experience of singing seniors enjoying a great retirement hobby.  Read about the fun and camaraderie in taking part in amateur Showtime Extravaganza at my golf club.

It's Showtime
It all began in January 2017 with the notification from Maurice Healy, Producer and Musical Director, of the start of rehearsals, with the message that 'enthusiasm was needed as much as talent'. 
We gathered on a cold January night, and though we were singing seniors, it was like first day in a new class in school, wondering what theme and songs teacher had in store for us this year.  There was banter and giddy chatter as Maurice called us to order.
We were divided into parts according to voice types, ladies as either sopranos or altos, and men as tenors or baritone/bass.
The first three songs were-Good Morning (Singing in the Rain), Anything Goes (Cole Porter), and Everything's Coming Up Roses (Gypsy).
The songs were familiar, though not as easy to sing as you imagine.  You think you know them, but soon discover that you know bits of the melody, few of the words, no harmonies, and the Maestro has his own arrangements. 
By week two the ladies already sound better than the men, they try harder, and they know the words!
Pirates of Penzance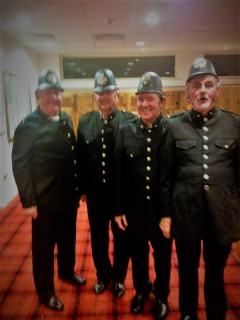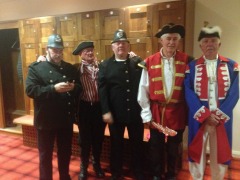 In subsequent weeks the Chorus practiced wonderful songs from Les Misérables (At the end of the day, Do you hear the people sing, etc), and from The Pirates of Penzance (Cat like tread, When the foeman bares his steel, etc), and Maurice coached our illustrious soloists with great numbers from these and other shows. In all there were 21 songs and two humorous sketches.

Practice makes...
We had eleven practice sessions on Tuesday nights from 7.30pm to 9.30pm, one Sunday, and a full dress rehearsal on the Wednesday before show, plus a separate night for the Orchestra and soloists.  Paul Murphy (drums) and Fergus Coppinger (Piano) were an essential part of our practice.
As Master of the house Maurice had infinite patience, but as 'keeper of the zoo' some nights he got irritated with his 'sorry little lot'.  'Stand up, put away your notes, this is not a joke (really?), only six weeks to go, don't send me texts saying you can't come'.
But April 7th seemed a long time away and we had lots of time to learn our lines, but it came around all too soon, and on the first night you had guys in the locker room, just before going on stage, having a last look at their notes, like schoolboys before an exam.

Our Singing Seniors Coach
The show programme describes Maurice Healy as Producer and Musical Director, conducting the Orchestra and Vocalists, selecting and arranging songs, but that scarcely does justice to his overall contribution as performer (best number of the show?), motivator and mentor. Maurice is indeed the Master of the House, everybody raise a glass...
Have you ever sat in the audience at a Monkstown Show, impressed by the talented performers, and thought I wish I could do that?  Well 'you can do it, all you need is a hand...Maurice is going to see to it!' 

Retirement Hobby
Singing is great hobby, regardless of your ability; it's good for your health, great fun and it fosters friendships.
So next year when you get a note announcing Showtime, why not give it a go?  'Curtain up!  Light the lights!  You got nothing to hit but the heights!'

Singing Seniors
Singing is great retirement hobby, regardless of your ability; it's good for your health and fosters friendships.
Singing for active older adults is a joyful healthy retirement hobby.

---