Urban gardening for retirees
Tips for low maintenance urban gardening for retirees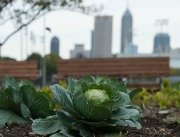 Urban Gardening is a popular hobby among retirees. Gardening is an enjoyable way to get exercise and fresh air, and seeing plants flourish under your care can provide a great deal of satisfaction. One of the many benefits of retirement is the extra time you have to tend to your garden, meaning you can tackle the projects you've never had the time for. 
Many urban areas don't have the luxury of a large garden. However, this doesn't mean gardening is totally closed off to those who are pushed for space, a little imagination can turn any urban area into a garden, no matter what the size. Small gardens also have the benefit of being easier to maintain.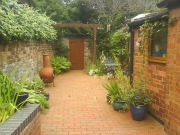 Some small urban gardens are paved, which means there's no lawn to maintain, allowing you to focus your time and energy on other areas of your garden, such as your borders and container plants, or even a small vegetable plot. 
Lawn Maintenance
However, if you do have a lawn, maintaining it doesn't have to be a chore. Mowing can be excellent exercise, and a newly cut lawn is very satisfying to admire! There's a wide range of both electric and petrol-driven mowers that are robust as well as lightweight and easy to operate. If you don't want to deal with the annual maintenance regime of aerating, scarifying and feeding that will keep your lawn in tip-top condition, there are professional landscaping firms that will take care of this for you, leaving you free to enjoy the results. 
Raised beds
If you prefer not to spend hours on your knees or bent over your borders, raised beds are a great solution, making it easier to weed and maintain your plants. You also have complete control of the soil that goes into your raised beds, meaning you can fill them with quality topsoil which will drain well and produce great results. Raised beds are particularly good for growing vegetables, allowing you to create the ideal conditions for your chosen plants.
Shrubs and hanging baskets
For attractive results with little maintenance, shrubs are a fantastic choice. They grow easily through weed-suppressing membrane, which you can overlay with bark or gravel for an attractive finish in containers and raised borders. The weed-suppressing membrane stops tough deep-rooted weeds such as dandelions from establishing themselves in your borders, and any smaller weeds that grow on the surface of the bark or gravel layer are usually easy to pull out. Don't worry if you don't have much space, as there are plenty of compact shrubs that work well in small gardens. Choose shrubs that suit the space you have available, so that you don't have to be continually cutting them down to size. Annual pruning and feeding is all that most shrubs need to keep them looking good.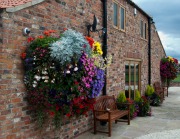 Hanging baskets are an easy way to add a splash of colour to your urban garden, and are simple to maintain. They can be pre-purchased when in bloom to add instant vibrancy to your space, or if you'd like to be more hands-on with your gardening, you can propagate your own seeds indoors before planting them in your baskets. 
Tips for low maintenance urban gardens
Opt for larger plant pots, as they hold more compost which will take longer to dry out, meaning you won't have to water them as often
Remember that tender and seasonal plants require more maintenance than hardy perennials.
If you plant a hedge, choose a slow growing variety that is easy to maintain.
Keep these tips in mind to make the most out of your retirement with urban gardening.
These tips come from Wyevale Garden Centres — for more gardening advice, visit their website.