Retirement Stories For Couples
How Retirement Affects Married Couples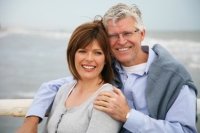 In retirement stories for couples I profile real life stories of the dreams and realities of retirement life for married couples.  Their experience will inform you on how retirement affects married couples, with ideas and tips on how to enjoy your spouse's retirement
Real stories-real people:  Paul and Marian
There are some advantages to couples retiring at different times. Paul is 62 and Marian is twenty years his junior. They are both in a second relationship, and have a seven year old son. Paul was happy to retire at 58, and has assumed responsibility for most of the household tasks. 
Marian is delighted that Paul is available to take their son to school in the morning, and collect him in the evening. Paul smiles when Marian arrives home from work with the greeting "Hello Honey, what's for dinner." Prior to retirement, Paul hadn't cooked the dinner in 35 years! 
George and Susan's retirement story
George retired at sixty and his partner Susan, who is two years younger, is planning to work until she is sixty five. She loves her work, yet there are days when she is envious of his relaxed lifestyle, and how much free time he has. They are empty nesters, and George sometimes dislikes the fact that Susan's work is inhibiting his retirement goals, e.g. he wants to travel, and participate in sporting and social activities. 

George sometimes has a problem in filling his days in a satisfactory manner. He looked forward to Susan's days off when they could share some activities together such as going to the gym, the occasional lunch, or going to the movies in the afternoon - at the "seniors" rate! He soon discovered that her days of are her days off, and he wasn't very interested in the things she wanted to do. 

He gave a wry smile when he recalled her witticism, "I married you for life, not for lunch!" 
They hadn't yet discussed their individual life interests and values at this critical time in their relationship. 
Retirement stories for couples...What's it like?
Imagine a gentleman, just returned from his office retirement party, walking through the front door and saying to his wife: "Hello Honey, I'm home ... forever!"  In the third age, sharing living space with a loved one may get too close for comfort. 

Colin is retired three years. He likes to keep busy. "Work hard, play hard" continues to be his mantra. He had a demanding career, which he loved, including lots of international travel. He enjoyed a good work/life balance, and has several absorbing retirement hobbies. 

His wife worked as a teacher until their second child arrived. Then like many of her generation, she became a full time homemaker. She was happy and successful in that role. 

Colin appreciated that couples can often find the constant presence of being in each other's company, or "under each other's feet", trying. When Colin started living the retirement life, he was irritated by the question addressed to his wife, "What's it like having Colin at home all day?" (He also found his wife's question to him - "what are you doing today", a little perturbing. She never had to ask that question before retirement.) 

Colin and his wife usually ignored that ill informed assumption. In fact Colin leaves the house almost every day, as he used to during his work life. Except now it's to hang out with some friends, do some volunteer work, or pursue one of his many hobbies. 

Colin respects the fact that his wife has had the house to herself for much of their married life, she is the master in that domain, and though he will willingly undertake household tasks delegated to him, he resists any inclination to offer any advice on the best way to load the dishwasher! 

From the homemaker's perspective, I have heard a lady express the view that she was not looking forward to her husband retiring. "He will start to think he really lives here," she quipped. "He will interfere nonstop. I'm encouraging him to stay working as long as he can." 
Eugene and Maria:  It's (not) so funny how we don't talk anymore
Eugene and Maria have been married for 37 years. They have four adult children, long gone from the home. Eugene is still working, part time. His wife is retired five years. "I really ought to retire, but I'm not looking forward to it," he confided in me. 

"I love my wife, and we have a good relationship, but I'm not ready for enforced togetherness." "I watched an older couple in a restaurant recently, sitting in polite silence, searching for something to say. I remember our courtship years, you couldn't shut us up! We kept interrupting each other; we had so much to talk about. And now we are just like that couple, when we are out together. So much of our life together was spent talking about our children, our hobbies, and our careers. What's it going to be like when we are home together all day? What are we going to talk about?" 

I reminded Eugene that marriages are rarely perfect (and neither is retirement). And that a long standing relationship can endure and prosper without some of the trappings of "romantic love" of youth. 

I suggested to Eugene and Maria that they should pursue separate retirement hobbies and interests, just as they did when they were employed. 

"You both need something you can talk about over dinner! And don't feel you have to abandon long standing routines. If you enjoyed lunch around 1.30 pm, reading the paper by yourself, continue to do so." 

I also recommended that they broaden their interests, and pre test some of their assumptions about the benefits of retirement, before Eugene retires. For example, golf gives great pleasure to many retirees, but read Paul's story about his experience of Retirement Golf. 
Retirement planning checklist for couples
John is retired four years. I asked him to review my Retirement stories for couples planning checklist . "I wish you had shown me retirement stories for couples before I retired, it would have saved me from several unnecessary conflicts and misunderstandings", he said. "You've covered all the bases."
"Thanks John", I replied. "You realize I learned some of these lessons the hard way myself!" 
The not so Golden Years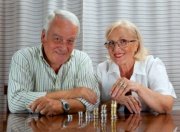 David retired at 50, on a pension of half of his working salary. "When I joined the company, at age 25, early retirement seemed like a great option. However, when the time came it became almost mandatory, and I was encouraged to go. I even thought about going back to work, but my choices were limited." 

His wife has ten years to go to retirement, she has some health issues, and she finds her job very demanding. She is envious of David's retirement, yet she feels the need to continue working. "David's pension wouldn't support our life style. We still have a sizable mortgage, and our youngest is still at college. If I retired early I would lose too much of my pension benefits. After almost 30 years of a relatively successful marriage, there are times I feel like we are living in different worlds; it's very stressful."
I love my wife, yet I miss my job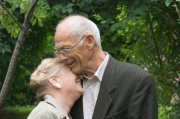 Robert, aged 66, is in his first year post retirement. He loves his new found freedom, the slower pace of life, and he looks forward to living out his retirement plans. After almost forty year of a happy and successful marriage he was eagerly looking forward to the Golden Years with Eileen. 

Something bothers him though. "I miss my job, or to be more precise, I miss the interaction with former work colleagues and the wider business community, and yes, I feel I've lost part of my identity. I don't want those gloomy thoughts to affect our relationship." He hadn't shared these concerns with Eileen. 

I reminded Robert that even the best relationships are likely to come under pressure in the early days of retirement, as the couple adjusts to suddenly spending so much time together. His solid marriage cannot be, and should not be a substitute for what he is missing from his work. I have coached other clients whose retirement stories for couples was similar.

I suggested that they needed a new deal for their Third Age, with an honest and open discussion about their hopes, expectations, and fears for the future. Had they hobbies and interests (shared and separate) that they enjoyed, but didn't have enough time for in the past. What about lifelong learning, or volunteerism? 

My encouragement to them was, "Don't miss this opportunity to spend some of the best years of your life, with the partner who can make them the best." 
---
Retirement stories for couples coaching
These retirement stories for couples remind us of the potential gap between the dreams and realities of retirement life for married couples.  Consider investing in retirement coaching, it worked for me. 
---
How was it for you?
I would love to hear your retirement stories for couples
What is Your Story?
Write About it it Here
Your Story is unique, since no one has seen the world through your eyes.

Tell us about your retirement, or the early years
Your Favorite Stories and Anecdotes on Retirement Stories ...
Click on the links below to see some great stories and anecdotes. They were all written by other visitors to this page...

Life in retirement for couples

My wife and I are retired, doing fine. She retired six years ago, and I eleven years ago. We are both 64 years old now. Our siblings, a young man, and …